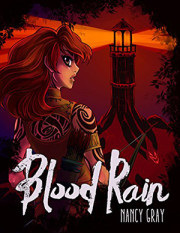 Recently, I sent my manuscript,
Blood Rain
, to
Portland Book Review
to see if it was well received. And it seems that they really liked it. They gave the book four stars and were honest about its shortcomings along with the things that they liked about the story. I've very pleased with the review. They talk a great deal about the themes of the story and seemed impressed with the world that I created even though the young adult market tends to be saturated with fantasy.
Anyway, the review is out, and I'd really appreciate it if you would have a look at it. You can find it
HERE
. If you like what you hear and haven't read
Blood Rain
, please go to amazon and pick up a copy of the e-book.
Hopefully I'll be selling print-on-demand copies soon. My goal is to have my edits complete by the end of December, and I'll be selling the print copies then. As I mentioned on my previous blog, there are some travelling discrepancies with my world and some overlooked grammatical mistakes, but nothing that will take me too long to adjust.
For those with e-book copies, you should be able to update to the newer version for free. From what I understand these small mistakes don't detract from the story too terribly much, but I want to give my readers the best experience that I can. So, read the story now, enjoy it, and update your e-book when I have finished with my edits for a more polished version.
In other news, I mentioned in my last blog that I intended to participate in NaNoWriMo (National Novel Writing Month) this time around. While I was involved with NaNo this time, to be honest, I didn't actively pursue it very much. One reason was that real life got in the way. This has been a rough couple of months for me personally from unemployment to illness. Things could be better. It makes it difficult to focus when there is a lot on my mind.
Also, when I got started, my goal was to finish
Blood God
by the end of the month. I think I owe it to my readers to try to write the best novel I can, especially since
Blood God
is the final novel of this series. So, even though NaNoWriMo had spurred me on to work on it
again, I'm not going to rush it.
In the meantime, between writing, reading, and real life, I'm also editing
Blood Moon
. I hope to be done with those edits by the end of December as well. So, if you're interested in this series,
Blood Moon
is the second book and will be available very soon. It picks up almost exactly where you left off at the end of
Blood Rain
. I hope you like it.